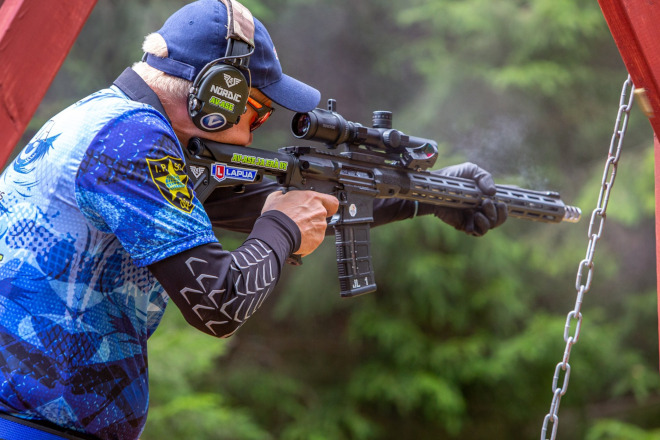 Throwlevers.com would like to congratulate Jarkko Laukia for winning the gold medal in Semi-Auto Open division in IPSC Rifle World Shoot 2019. Jarkko was using one of my levers with a Swarovski Z8i scope.
Welcome!
A throw lever enables you to quickly adjust the magnification on your scope during a course of fire in a competition. All my throw levers are milled from POM-C. A threaded steel insert and an M3 screw are used for mounting the lever in place. A minimum clearance of 7.6 mm is required under the magnification ring. This could be an issue with very low scope rings and some one piece scope mounts. Please measure your clearance before you order. Hint: 8 mm drill bit or allen key makes an easy gauge for measuring your clearance. If you are planning to use the lever with a bolt action rifle, please note that it is possible that the lever handle may interfere with the movement of the bolt handle. This all depends on your combination of rifle, scope, rings, etc.
Currently levers are available for the following rifle scopes:
Burris Four X 1-4×24
Kahles Helia C and CSX
Kahles Helia 5
Leica Magnus
Meopta R1, ZD and Meopro
Meopta R2
Schmidt & Bender PM II 5-25×56
Steiner M5Xi
Steiner Nighthunter Xtreme
Swarovski Z6(i) and Z8i
Trijicon 1.25-4×24
Trijicon Accupoint 1-6×24
Vortex PST and HST
Vortex PST Gen II
Vortex Razor HD II
Vortex Strike Eagle
Zeiss Conquest DL
Zeiss Conquest HD5
Zeiss Conquest V6
Zeiss Terra 3X
Zeiss Victory HT
Zeiss Victory V8 (also available with 40° [photo] and 70° [photo] offset versions)
More lever models will be added every now and then.
Currently all levers are made to order. Orders are mailed out within 7-14 days on weekdays. Please note that you are buying from a hobbyist operating hobby grade machinery. The parts that I'm selling are fully functional and can take a beating, but the finish is not always very nice. That means visible tooling marks etc.
The shipping cost is flat rate 2.50 € to anywhere* in the world. If you don't like PayPal, it is also possible to pay with a SEPA bank transfer. Please send me an email with your details and I'll send you a PDF bill. (* = Sorry, but no sales to: Africa (except South Africa), Middle East (except Israel), South America, Portugal)
---
December 2, 2019
I have temporarily removed the shopping cart feature from this website. The shopping cart will be back online most likely some time in late January, 2020. There are some orders in the queue right now and those will be made and delivered as promised. Why the pause? On a personal note, I have two surgeries coming up and I will need some time to recover. Also I am hoping to get the newer machine up and running so surface quality of the parts would be better in 2020. Sorry for the inconvenience.
Merry Christmas and a Happy New Year!